It's safe to say that I am an avid fan of the work of the Northern Renaissance, having written a dissertation on Holbein's The Ambassadors last year. It excited me greatly to hear then, that the National Gallery was to dedicate its Sainsbury Wing to masterpieces of the German Renaissance under the entrancing title Strange Beauty, offering an alternative cultural exploration that has been marginally overshadowed by the Veronese  show opening this time next month.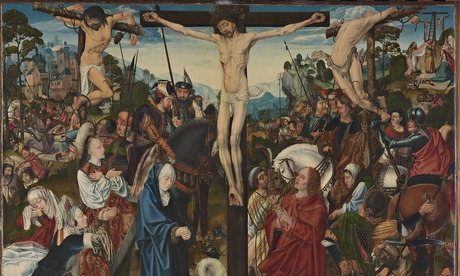 The premise of the exhibition was captivating –  to shed light on the overlooked paintings produced by German painters, often shrugged off in favour of Italian High Renaissance greats, perhaps because of their more eccentric sense of "beauty". The information in the first rooms gave a fascinating insight into the history behind the National Gallery's acquisition of German Renaissance works, or perhaps, their lack thereof. It was startling how overlooked this area has been. Indeed,  it took 23 years for the National Gallery to acquire its first German painting, the 15th-century 'Crucifixion' by the Master of the Aachen Altarpiece. And even after this, the painting wasn't displayed until the 1880s. This aversion to German paintings extends into the early 20th century, and it wasn't until the rise of Modernism that the institution and audiences of the time began garnering a larger appreciation of these works. For example, the gallery was offered 'Virgin and Child' by Dürer's workshop in 1872, which was not accepted until 1945!
As interesting as finding out the provenance of the gallery's acquisition of these works was, I was surprised, however, to find that this theme was a the only prominent driving force of this exhibition. I did not expect half of all the caption details for each painting to be so descriptive of which bequest resulted in the appropriation of the work and must admit that I was a little disappointed as a result. In all honesty, I'm afraid that my aesthetic appreciation of the works was a little diminished by my disappointment, particularly as the exhibition itself had "beauty" in its title. Nevertheless, some interesting comparisons were drawn and I was especially struck by Raphael's 'St Catherine of Alexandria' which was juxtaposed with Grien's 'Trinity and Mystic Pieta',  to enhance the contrast in styles and heighten the disparate notions of beauty between the Italian and Northern Renaissance. The Raphael did look very out of place among all the Northern works but, I suppose, that was the point the curator was trying to make.